Biography
Coach West is originally from Newport News, Virginia. He loves to help players harness their innate athletic abilities while instilling proper technique. His coaching experiences include:

College of William and Mary

Offensive Coach

Little Keswick School (High School)

J.V. and Varsity Head Coach

Albemarle High School

J.V. and Varsity Goal Keeper Trainer

Hampton Roads Academy

Defensive Coach

FC Alliance

U-5, U-12 boys, U-7 girls

AYSO (American Youth Soccer Organization)

U-5 boys, U-9 girls

Monticello United

U-10 and Goal Keeper Trainer
Coach West is passionate about Coaching Education and Player Development. He has multiple USSF & NSCAA licenses and diplomas. In addition to attending multiple profssional tryouts, Coach West has trained with instructors from Ajax F.C, Chelsea FC, Richmond Kickers, Leicester City, UNC, as well as American, Scottish, and English national teams.
Philosophy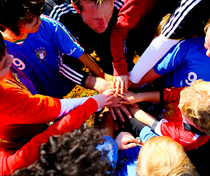 West City Soccer(WCS)'s coaching philosophy is to enhance overall athletic performance by building on inborn strengths. Children, teenagers and adults can become much better athletes by learning how to capitalize on their natural abilities and physical attributes. By developing personalized drills, games and practice routines, Coach West is able to harness raw talent, while progressively instilling proper soccer technique and love for the most popular sport in the world.
I'm impressed with Coach West's passion for the integrity of the game. His enthusiasm is contagious.
My first experience with soccer was when a neighbor invited me to come play with a local women's team. Having never played a team sport before, I was intimidated, but it was so fun, I was instantly hooked. About that time, West City Soccer's women's program started up, and I've been involved in his training programs every season since. Through his expert coaching and encouragement, I've learned the principles of play and can now apply the skills and techniques from practice to be successful on the field. Additionally, Coach West's relentless enthusiasm, positivity, and passion for the sport and his dedication to the soccer community have fueled my own love of the sport
WCS has been a fantastic way to get back into playing soccer again and improve in many way[s]. My ball handling skills have gotten better, and I'm more confident on the field. Not only is it a great learning experience, but you also make new friends who share your love for soccer.