Kids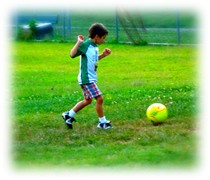 Homeschool Program (Ages 6-9, 10+)
The homeschool program focuses on technique, teamwork, and fitness in two different age groups
Dates: Thursdays Dec. 6 - Jan. 31
(makeup Feb. 7)
Location: Pen Park
Cost: $100
Times:
12:30 - 1:30 PM Ages 6 - 9
1:30 - 2:30 PM Ages 10+

Goal Keeping & Attacking Clinic (Ages 8-14)
This Madison County program teaches goal keeping and the attacking principles of play
Dates: Sundays Jan. 13 - Feb. 24
(makeup Mar. 3)
Location: Waverly Yowell Gym, Madison County
Cost: $50 per player
Times: 3:00 - 5:00 PM

Soccer Team (Ages 8-14)
Play 3 matches against Madison County team in Madison! (Includes 3 practices times TBD)
Dates: Sundays Jan. 27, Feb. 17, & Mar. 3
Cost: $50 per player

Families
No family programs this winter.
Be sure to check back in the spring!
Women
Soccer For Women (S4W)
This technique-based, athletic conditioning program is open to women of all ages and abilities and is designed to foster fitness, friendships, and fun. This program will help you increase your mental, physical, technical, and tactical soccer abilities. Come stay active this season, make new friends, breathe fresh air, and have fun.
Dates: Dec. 7 - Jan. 25 (makeup Feb. 1)
Location: Darden Towe Park
Cost: $100 [$10 drop-in fee]
Times: Fridays 9:30 – 10:30 am

download registration
or
online registration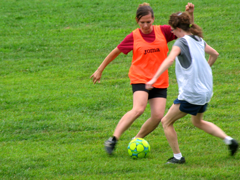 There is open registration for any program. Try any program for a "drop-in" fee of just $10. Come play futbol with us!
We must have a liability waiver on file for every participant. Please download one and bring it to your first session.