Camps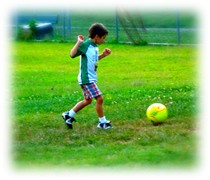 Charlottesville / Albemarle Summer Camp(Ages 7-9, 10-16)
Come celebrate the 2019 FIFA Women's World Cup by playing 3 v 3 and learning the attacking styles of Brazil and Spain.
Indoor/outdoor location
Times: 09:30 - 12:00 PM
Location: Stony Point Ruritan Club
Cost: $120
Ages 10-16:
July 15-19
Ages 6-9:
July 22-26

Matches
Scrimmages
Come play in family-friendly scrimmages with other WCS participants. For youth ages 8-12, parents, and community alike.
Times: 6:00 - 7:00 PM
Location: Pen Park
Cost: $10 per player per match
Dates:

June 19
July 17
August 14
No registration required. Just come play with us!
Families
Family Football fun (Ages 8-12)
Soccer is the perfect family game. It teaches teamwork, strategy, decision-making and effective communication. Stay active, have fun, make new friends and discover your family's soccer star.
Dates: June 21 - Aug. 2
(Makeup Aug 9)
Location: Pen Park
Cost: $100 includes up to 4 family members
Times: Fridays 6:00 - 7:00 PM

Adults
Soccer For Women (S4W)
This technique-based, athletic conditioning program is open to women of all ages and abilities and is designed to foster fitness, friendships, and fun. This program will help you increase your mental, physical, technical, and tactical soccer abilities. Come stay active this season, make new friends, breathe fresh air, and have fun.
Dates: June 23 - July 28 (Makeup Aug 4)
Location: Darden Towe Park
Cost: $50 [$10 drop-in fee]
Times: Sundays 5:30 – 6:30 pm

download registration
or
online registration
Adult Program
Come play 3-v-3 with a keeper. Emphasis on the goal keeper coordinating with defenders and on strikers learning how to create scoring chances.
Dates: June 14 - Aug. 9
(Makeup Aug 16)
Location: Pen Park
Cost: $50
Times: Fridays 9:30 - 10:30 AM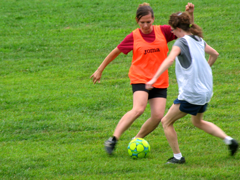 There is open registration for any program. Try any program for a "drop-in" fee of just $10. Come play futbol with us!
We must have a liability waiver on file for every participant. Please download one and bring it to your first session.