Training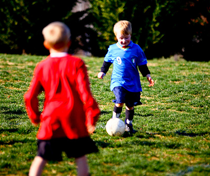 West City Soccer offers Personalized Training Programs for Individuals and Small Groups. The focus and number of the sessions will vary according to the needs and objectives of each client. Training Programs are available in packages of 3, 6 and 12 on-field hour-long sessions. For pricing details, please see below.
Small Group Training (2 to 6 Participants)
Small group sessions are designed to improve understanding of team play. These training sessions are ideal for families, groups of young athletes, high school, and aspiring collegiate athletes who are looking to improve their current skill level and overall contribution to their team. Small Group Training sessions are also recommended for moms and dads who want to connect and develop a fun and positive interaction with their children. Some of the drills and activities taught during these sessions are an ideal foundation for fun "back-yard" family practices. West City Soccer also offers training seminars to coaches and teams seeking to improve competition levels and group dynamics.
Individual Training (One-on-One)
West City Soccer specializes in One-on-One instruction for dedicated athletes of all ages. Individual sessions are a powerful way to increase speed, agility, technical precision and game intelligence in a brief period of time. One-on-one instruction offers advantages such as:
Dedicated attention,accountability and motivation
Continual challenge and progressive training
Personalized body alignment tips
Training sessions around your schedule
Decreased risk of injury
Accelerated results
Register Now!
Training for Success
Prior to designing a Personalized Training Program, I meet with my clients to assess their current technique level. This technique assessment is followed by a session where we discuss program expectations, define clear goals and set a specific achievement timeframe. A positive mental attitude and a willingness to overcome challenges is a crucial element to reaching goals. My job as a coach is to provide creative solutions and positive feedback and to ensure my clients achieve their goals in a timely manner.
Training Benefits
Some of the benefits you can expect from West City Training programs include:
Improved athletic performance
Improved leadership and contributions to your team
Reduced risk of injury
Improved knowledge of soccer's principles of play
Higher confidence levels
Achievement of personal goals
Training Modules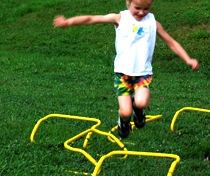 Individual and Small Group training sessions may focus on increasing overall athletic performance on the field (speed, agility, strength, endurance) or technical precision, game intelligence and mental toughness, as required by the game. Sessions can also be tailored to focus on attacking, defending, or goalkeeping. Sample training modules are listed below:
Soccer Technique:

Dribbling
Passing
Receiving
Attacking
Defending
Goal Keeping

Pillars of Soccer:

Technique
Tactical
Mental
Fitness/Physical

Athletic Performance:

Balance - maintain center of gravity in motion
Agility - change position and direction efficiently
Speed – increase sprinting speed
Strength – increase ability to exert force
Flexibility - range of motion of an anatomical joint
Power - increase energy transmission rate
Endurance – ability to sustain prolonged effort
Training Prices
Training sessions are available in sets of 3, 6 and 12 hour-long sessions. Hourly rates vary from $45 to $60 per session, depending on number of participants.
Register Now!
Birthday Parties
Happy Birthday!! We know how important this day is for parents, children, friends and family members. WCS specializes in providig a meaningful & memorable soccer-themed Birthday Celebration. Along with age-appropriate games, your party can be custom-tailored to fit location and the special interests of the Birthday Player. During the initial meeting Coach West, Birthday Player, Parents, and Friends collaborate to develop Birthday Fun!
Register Now!